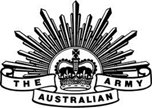 V1602299
TIPPETT
Norman William
"Digger"
On 4th November 2021 at Coleraine
Aged 98 years.
Dearly loved and loving husband of Jean.
Much-loved father and father-in-law of
David and Mary, Charles and Ann.
Loving Pa of Adam and Kerri-Anne, Amanda,
Marcus and Tess, Alison and Keith, Paul and Emma.
Special great-grandfather of Caleb, James, Oliver, Ariel, Lenny and George.
In God's Care
Loved and Remembered always.
FUNERAL NOTICE
TIPPETT
A funeral service for the late Mr Norman William Tippett will be held at Holy Trinity, Anglican Church, Church Street Coleraine on Thursday 11th November at 2.30pm. The funeral will leave at the conclusion of the service for the Coleraine Cemetery.
To attend this service you will be required to:
• Show your covid vaccination certificate.
• Bring your mobile phone for QR Code entry.
• Follow social distancing guidelines.
• Wear a fitted facemask indoors.
The service can be viewed online at www.fgreed.com.au/memorial-tributes/
This page will be available from Friday 13th November.
F. GREED & SONS A.F.D.A
HAMILTON (03) 55721053